With the release of Rogue One: A Star Wars Story now less than one week away (Dec. 16), it seems like a good time to focus today's post on the new Star Wars experiences coming soon to Walt Disney World!
With that in mind, The Downlow for Saturday, December 10, is here!
Spaceship Earth at Epcot Transforms into Death Star
On Monday, Dec. 5, Epcot's iconic Spaceship Earth was "morphed" into a Death Star during a special bloggers meet-up event! During the special event (which the Downlow team missed by one day!), Disney brass gave an update on some of the Star Wars theme entertainment coming to the park soon (see below) and hosted a short Q&A with Mads Mikkelsen who has a role in Rogue One – but who we at the Downlow know and love as Hannibal Lecter from NBC's short-lived Hannibal show.
The one-time event was a big hit for Disney on social media. But not everyone was a huge fan. Robert Niles from Theme Park Insider posted a video today wondering if Disney went too far in turning Spaceship Earth – a beacon of global communications and advancement – into a death star.
Interesting take from Robert!
New Rogue One Additions at Disney's Hollywood Studios
So what are these new Rogue One additions? Well, for starters, more stormtroopers at Disney's Hollywood Studios. And not just any old run-of-the-mill stormtroopers – we're talking all-new AWR (Advanced Weapons Research) Troopers! Take note of their shiny black suits. Awesome!
These new troopers will also show up in a new scene in "Star Wars: A Galaxy Far, Far Away", a daytime show currently running at DHS. Additionally, Star Wars Launch Bay will be updated with props from Rogue One, and very soon, the great nighttime show, "Star Wars: A Galactic Adventure" will return to DHS and serve as the second nighttime show with the new holiday show, "Jingle Bell, Jingle BAM".
Finally, a new seven (7) hour guided Star Wars-themed tour was announced for true fans! Here's what Disney Parks Blog said about it:
A new Star Wars Guided Tour is also in the works for the ultimate Star Wars fan visiting Disney's Hollywood Studios. This seven-hour guided tour will be led by a Star Wars "all-in-the-know" tour guide that will include: a journey on Star Tours – The Adventures Continue; an opportunity to participate in Jedi Training: Trials of the Temple (for guests age 4-12); a guided exploration of Star Wars Launch Bay, dinner at a quick-service restaurant featuring Star Wars-themed items; the Star Wars: A Galactic Spectacular Dessert Party; fireworks viewing and more.
We're game for that!
Construction updates for Star Wars Land and Toy Story Land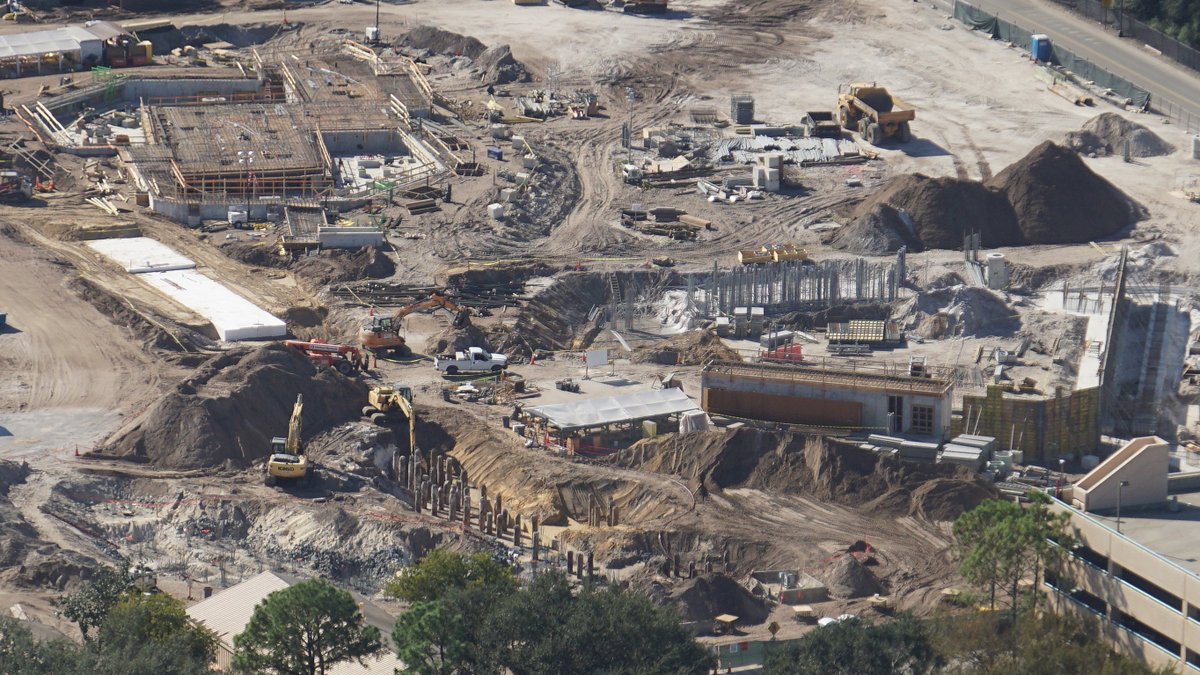 A final update from DHS comes from our friends over at Themeparx.com. This is the premiere website to follow construction updates at parks across the world. As you'll see, Toy Story Land and Star Wars Land is underway (to varying degrees it appears) at DHS! Toy Story Land is coming along quicker than Star Wars Land, but that's not too unexpected given that Disney seems intent on opening Star Wars Land at Disneyland before the DHS iteration. Still these construction photos have us very excited!
———————–
Alright, that's the Downlow for today! The Star Wars edition! Are you excited to see Rogue One: A Star Wars Story? Are you interested in hitting the Disney parks to see some of these new Star Wars additions? If so, be sure to drop Angie a note so that she can getting started planning your magical vacation!